I never thought this day would come! Growing up in Orlando, Florida, Disney, Universal and other assorted attractions were a part of my youth. However, spending a decade there, I can assure you that Orlando is much more than Mickey Mouse and Harry Potter. The city has come a long way in the past few years and offers so much more than tourist attractions to visitors, which is why I am so excited that it has made CNN's recent list of the
World's Top Destinations for 2012
! Go Team Orlando!
I'm just leaving the Sunshine State after spending Christmas vacation with my family, which was a constant, balmy 80 degrees. In my short five days, my family and I were able to enjoy so much! My husband golfed with my father and brother while my mother, aunt and I went to see Shrek! On Ice at the Gaylord Palms. My uncle is a seasoned outdoorsman and went hiking every single day he was in town. I was able to do some excellent shopping, enjoy unique, small town cuisine and even take in a local live band. The possibilities are endless – and you don't even have to set foot in an amusement park!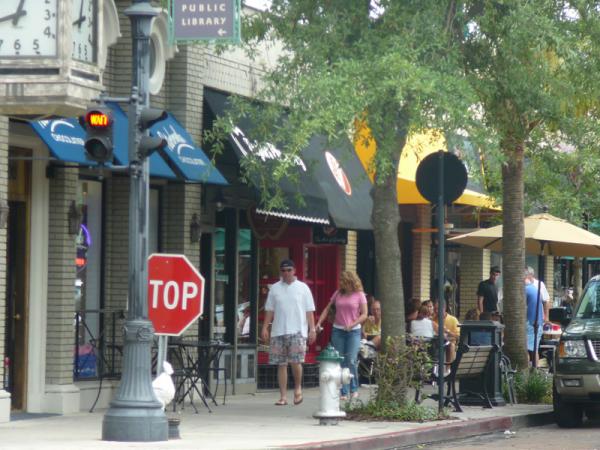 I love strolling down the streets of Winter Park!
One of my favorite areas to stroll around is Winter Park, FL. While it is a small suburb of Orlando, Winter Park's ambiance is comparable to that of Georgetown. Brick and cobblestone streets are lined with unique restaurants, shops and coffeehouses on one side and a large open square marked on each end with fountains on the other side.
Visit 310 Park South for dinner and stroll down to The Briar Patch for homemade ice cream or a slice of cake. If you're in the mood for shopping you'll have to stop by Tuni's. For cocktail hour (or hours) head over to The Wine Room to taste one of their more than 150 wines by the ounce! Each wine has its own automatic pour function allowing you to taste just an ounce, a half a glass or a full glass. Whatever size you choose is logged on a card which you prepay with money and can continue adding funds as you go, which trust me, can be dangerous!
Winter Park is just one of the small treats Orlando has to offer – visit and you can explore even more unique neighborhoods!