I recently took a trip to my hometown of Orlando, Florida to get in some quality time with my family. Whenever I go home, shopping with my mom is on the calendar. What better way to bond than over massively discounted clothing?
I always make it a point to hit up the outlets and Target. The outlets are a no-brainer but Target? Really? YES. My family makes fun of me for the level of excitement I have regarding the Target in Altamonte Springs, Fl.
This little shopping excursion led me to two of the items on my must-have fall shopping list. Incidentally, the two items for which I've been scouring every store in DC and Arlington. A fitted chambray shirt and a polka dot button up shirt.
I am so pleased with these two purchases. The polka dot button up is from the J Crew Factory Store, but has disappeared from the online merchandise, likely due to its overwhelming popularity. They do have a superb silk striped option if you're searching more for a staple graphic button up than for polka dots. Stripes or polka dots, you really can't go wrong!
On the chambray shirt. I searched high and low, from Forever 21 to Nordstrom and back again for chambray shirt with the perfect amount of tailoring, a hint of stretch and a not too light, not too dark wash. I thought Target might be the place, but came up empty at the location near my house in Arlington. However, the Target in my hometown had a profusion of chambray – ombre, dark wash, light wash, western, tie-dye, strategically bleached – and of course, the Goldilocks version, not too light, not too dark, which I promptly snatched up for a mere $20. Again, gone on the website, but check out Christina Aguilera rocking the shirt on the cover of Lucky!
I have to say, I didn't even realize it was the same shirt until I bought this mag for my plane ride home and thought to myself, well now THAT looks like the perfect chambray shirt. Perhaps I should see where it is from in case I want to keep looking. Lo and behold, I gasped, it is the one and only chambray shirt from Target…of which I am the proud owner!
Are you searching for these items too? If you can't find the two above, check out these options: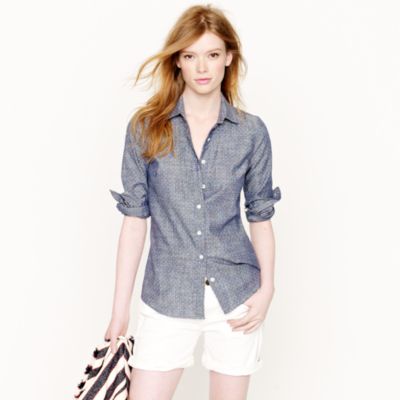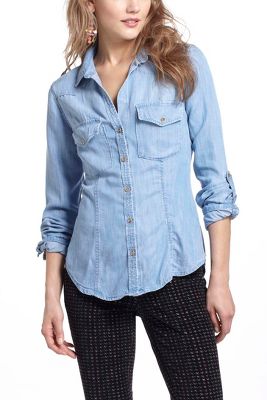 Have you found the perfect chambray shirt? What about the perfect polka dot piece for fall? Let me know!